Multimedia, muti-channel campaign highlights state's opportunities for business growth
Intersect Illinois, the public-private business recruitment arm of the state, today launched a new multimedia, multichannel campaign called Be in Illinois. The campaign showcases Illinois' unique assets such as its skilled workforce, central location and history of innovation to corporate investment and relocation decision makers.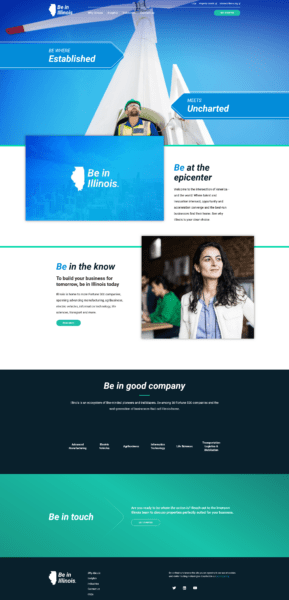 A substantial expansion in Intersect's marketing efforts, the Be in Illinois campaign will deploy video, digital, and OOH advertising – as well as underpin a series of activations at events where innovators and decision makers gather. The campaign's website can be accessed via beinillinois.org.
"Illinois has a great story to tell, with a proven track record of innovation and success, but we have been shy about telling it," Intersect Illinois CEO Dan Seals said. "The economy is at an inflection point, so now is the time to be more direct in communicating all that Illinois has to offer, telling those stories, and attracting new investment and jobs. As we survey a business landscape that values innovation, sustainability, and talent, it's time to promote what we bring to the table."
The campaign shines a spotlight on sectors where Illinois has a competitive advantage, including agribusiness, life sciences, manufacturing, tech, transportation and logistics – as well its rapidly emerging electric vehicle (EV) sector. Illinois already boasts the fifth largest economy in the United States, 18th in the world, and is home to more Fortune 500 companies (38) than all but three states.
"Some companies don't know that Illinois is an economic powerhouse," said Intersect Illinois Board Chairman and Loop Capital CEO Jim Reynolds. "Our goal with this campaign is to make sure every company that is looking for the next place to invest considers Illinois."
The Be in Illinois campaign highlights four key pillars:
Location and Connectivity
Many states boast of their Heartland locations, but no place matches central geography to reliable and wide-ranging logistics infrastructure like Illinois. With one of the busiest airport systems in the world, Illinoisans are a four-hour flight from any major location in the continental United States, and has the most international nonstop flights of any U.S. airport. All seven of the nation's Class I railroads pass through Illinois, and the state is home to both the third-largest intermodal port in the world and the third-largest interstate highway system. Illinois' central location and strong infrastructure keep supply chains humming by ensuring that goods and people flow freely, easily, and quickly to markets around the world.
Talent
People are a business' most valuable resource. Illinois nurtures and invests in this precious resource by maintaining excellence in its public and private universities and job training programs. Every year, Illinois produces more engineers than MIT, Stanford, and Caltech combined. With 6.5 million workers, one-third of whom have a bachelor's degree or higher, Illinois boasts one of the most productive workforces in the country.
Proven Track Record of Success
In 2021, Illinois saw more than $3.5 billion in capital investment from 480 projects, creating 21,000 new jobs, and pushing the state to #3 in Site Selection's rankings of top states for business expansions. Illinois is home to many of the nation's best and most innovative companies spanning advanced manufacturing, agribusiness, energy and electric vehicles, IT, life sciences, transportation, and more.
Resilience, Sustainability, Longevity
From the first cell phone to the first search engine, from blue chip companies to paradigm-shifting startups, Illinois has long fostered innovation, and proudly hosts some of the most transformative companies in the world. Illinois is a place where added value aligns with affordability, and where long-term vision is vital. That's why the state is making critical investments in reliable and sustainable energy, world-class infrastructure, and advanced training for workers.
The Be in Illinois campaign is produced in conjunction with the Chicago office of Edelman, the pioneering global communications consultancy that was founded in the Windy City in 1952. Drawing on dozens of hours of research and interviews with experts at all phases of the relocation process, the campaign is intentional in its storytelling and design elements.
###