Governor Pritzker taps Atkinson to help lead efforts to expand economic development in Illinois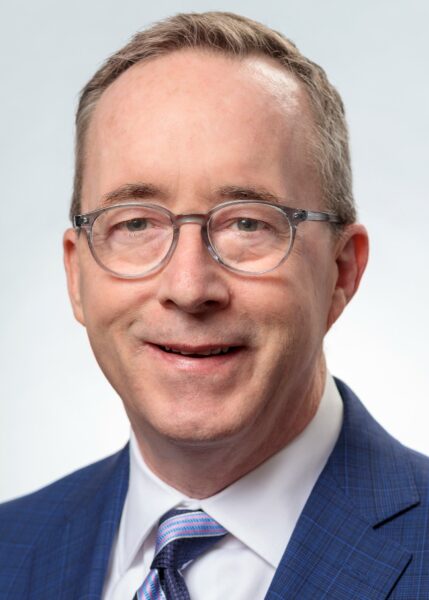 CHICAGO, IL – John Atkinson, Managing Director and Chairman of Marsh Chicago, has been nominated as Chairman of Intersect Illinois' board of directors. Atkinson will bring his vast leadership experience in both the public and private sectors to advance economic growth and help bring jobs to Illinois. In this role, Atkinson looks forward to partnering with Governor Pritzker to both engage Illinois' business leaders, as well as drive economic development throughout the state.
Marsh McLennan is the world's leading professional services firm and Atkinson leads one of the Marsh's fastest growing industry verticals in the US and Canada, and as Chairman of Marsh's Chicago office, he helps lead civic and community engagement for the firm and supports the leadership team in growing Marsh's business in the Midwest. He has spent his career building companies and teams focused on helping organizations navigate complex business challenges. Atkinson also serves as Chairman of the Illinois Board of Higher Education (IBHE), where he recently led the development of an equity focused strategic plan for higher education in Illinois.
In his role as Chair of the Illinois Board of Higher Education, Atkinson has played a key role in driving growth of the state's economy through workforce development. By leveraging the state's best-in-the-nation higher education system to create a future-ready workforce, more than $50 billion in economic impact is created annually by higher education institutions. The contributions they make to idea generation, innovation, invention, inclusive and diverse economic engagement, and community development are essential for Illinois to thrive.
"With the help of Intersect Illinois, my administration has prioritized sustaining economic growth so that every single Illinoisan can thrive," said Governor JB Pritzker.  "These strides were made under the incredible leadership of Jim Reynolds and we couldn't be more excited to continue our relationship with Intersect Illinois under John Atkinson's watch. I know that together we will continue to accelerate an innovative economic development plan that prioritizes workforce development and attracting new businesses to all corners of the state."
"I'm thrilled to take on the role of Chairman of Intersect Illinois and continue the great progress made under the leadership of Jim Reynolds," said John Atkinson. "Intersect Illinois' mission is to bring new jobs, new investment and economic prosperity to our great state through dynamic partnerships and collaborations, and I very much look forward to leveraging my experience and working with the Governor, DCEO, our Board members and the Intersect team to further that pursuit."
Atkinson also Chairs the State Universities Retirement System of Illinois (SURS), is a Director of Cradles to Crayons and Argentum, and is a member of the Board of Regents of Loyola University Chicago and the Board of Advisors of Catholic Charities of Chicago.
With Atkinson's appointment, Jim Reynolds will assume the role of Chairman Emeritus. Reynolds has been a member of Intersect Illinois' board of directors since 2019. He took on the role of Chairman of the Board in December of 2021. During that time Intersect Illinois has brought thousands of jobs to the state. Reynolds' leadership was integral throughout the pandemic and he will remain a valuable advisor to the organization with his continued role on the board.
"Jim Reynolds is a tremendous asset to the state of Illinois and we are grateful for his work in leading Intersect Illinois' board of directors," said Intersect Illinois CEO Dan Seals. "We're excited that Jim will continue on as Chairman Emeritus and look forward to welcoming John Atkinson as our new Chairman."
"As Chairman of Intersect Illinois' board of directors, I've had the unique opportunity to impact the organization's growth and development," said Reynolds. "I look forward to continuing my work in helping advance the state's economy as Chairman Emeritus."
Intersect Illinois' engaged board of directors helps the organization generate public good with private sector efficiency. As the state's business attraction and marketing engine, the organization provides data, location and technical assistance, and connections to companies considering growth in Illinois, helping navigate the site selection process. The organization's growth has produced results, as Illinois became just the fifth state to cross a $1 trillion GDP threshold. In addition, Illinois has received national acclaim from Site Selection Magazine as the second ranked state for US corporate investment, and best state in the Midwest for workforce development.
Atkinson was nominated to the board of directors by Honorary Chairman, Governor JB Pritzker. The nomination will be voted on during the board's September meeting.
Upon confirmation, Atkinson will transition away from his role as Chairman of the Illinois Board of Higher Education and the State Universities Retirement System of Illinois.
###
INTERSECT ILLINOIS is the only statewide economic development organization focused on bringing new jobs and investment to the state. Intersect Illinois collaborates with industry, academic and government partners throughout the state. To date, Intersect Illinois has helped bring nearly 17,000 jobs and $6.2 billion in investment to Illinois.